The Best Healthcare Inventory Management Mobile App
How does it help healthcare management solutions?
Our mobile app is like a personal assistant for healthcare professionals. It makes managing medical inventory and supplies a breeze. With this app, healthcare professionals can conduct transactions like receiving, moving, and transferring medical equipment and supplies from anywhere, which saves time and improves your staff's workflow.
The app also keeps everyone in the loop with real-time notifications and alerts about inventory levels, trends, and more! Whether you manage pharmaceutical manufacturing companies, biotech laboratories or medical warehouses, this helps healthcare professionals work together more efficiently and avoid confusion.
Making It Easy to Work On The Go
Learn about the benefits our mobile app brings you
In the healthcare industry, time is everything. The response time of your staff makes all the difference in a patient's outcome. Our mobile app brings essential features from our Healthcare Management Solution right into the palm of your hands. This helps your organization:
Keep track of inventory and expiration dates in real-time, ensuring you always have the necessary supplies and equipment on hand
Automate inventory management tasks, reducing the time and effort required to control the levels of your medical supplies.
Improve communication and coordination between different departments and teams, efficiently streamlining your operations
Save money on operational costs by reducing the need for manual inventory tracking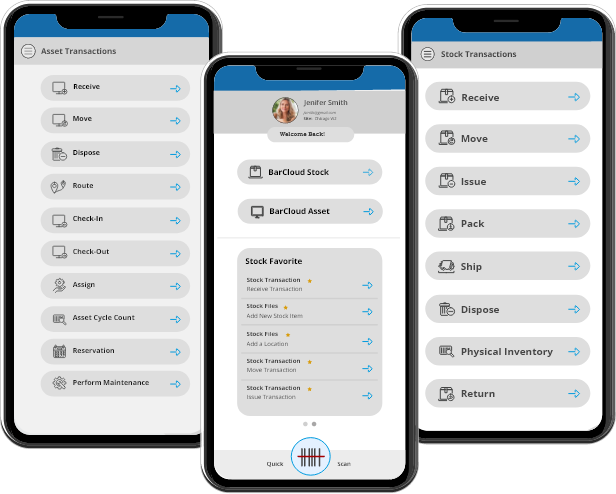 The Latest Features Made for Effortless Inventory Management
Learn about the most recent releases within our Mobile App
Our mission is to improve our services and provide our customers with the latest tools to streamline manufacturing, research, and management operations in the healthcare industry. Here are some of the upgrades we've made to our mobile app:
Uninterrupted Workflows
Our latest release introduces a revolutionary approach to work efficiency, transforming the way inventory management tasks are accomplished. Say goodbye to the interruptions when ongoing transactions are disrupted to add inventory or asset items to your system. Our cutting-edge update enhances productivity by seamlessly incorporating new inventory items into your system without having to close the current transaction process.
Printing Barcodes
Our state-of-the-art mobile app revolutionizes the barcode printing experience. We released a feature that enables users to export barcodes directly to PDF format, streamlining the printing process for unparalleled convenience. Whether you're operating within a warehouse, or working remotely, our mobile app provides the flexibility to effortlessly generate and print barcodes.
Export Reports & Analytics
We reimagined the reports feature, seamlessly integrating the functionality from our desktop system into a simplified and user-friendly interface within our app. You have complete control over your reports even from our app for easy customization of relevant columns and filters to fine-tune results. Seamlessly export these invaluable insights as Excel or PDF files, which provides the added convenience of printing reports directly from your mobile device when needed.
Single Sign-On (SSO)
By incorporating SSO functionality into our mobile app, we have streamlined the login experience for your employees and users. They can now effortlessly access the system using a single set of login credentials, ensuring a seamless and efficient authentication process. Enjoy the convenience of simplified access while maintaining the highest standards of security.
Manage Healthcare Supplies & Assets Conveniently
Our App works for both iOS and Android
No need to buy new fancy equipment, our app can be downloaded on any smartphone, tablet or even scanner that's running iOS 6 or later, Android 4 or later. Just use your own device, it's like a BYOD (bring your own device) policy. Even better, you can even use the camera on your device as a scanner, making your work even more convenient.
Update Your Data in Real Time
Always stay up to date with our convenient Mobile Inventory Management Software
With our app, you don't have to worry about manually syncing data. If you're connected to Wi-Fi, the app will automatically sync any information you've collected. Plus, even if you don't have Wi-Fi, our cloud-based solution has an offline mode so you can still work and the data will sync up when you're back online.
Not Limited to Just Phones and Tablets
Learn about the other hardware that works with our systems
Looking for a way to scan inventory quickly and accurately? Our barcode scanners are the perfect solution. With the precision of a laser scanner and the convenience of a mobile app, our barcode scanners with Android allow you to quickly scan medical supplies with minimal chance of error. Check out the hardware that are compatible with our healthcare management solutions here!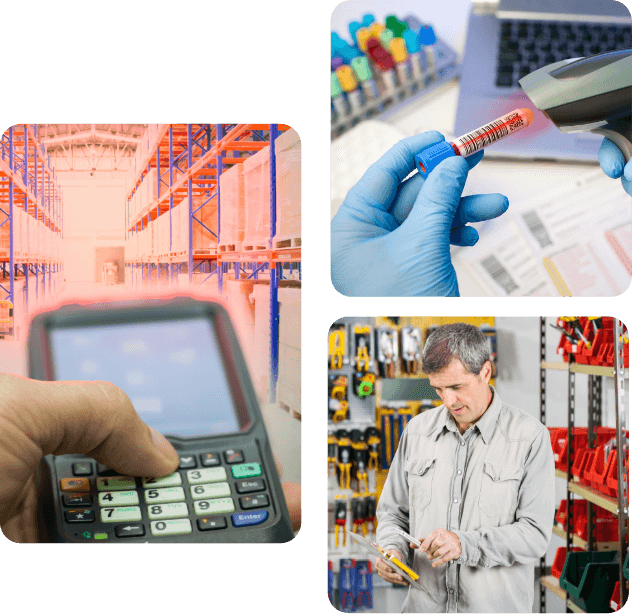 Manage Mobile Device Access
Limit the access of Mobile Devices for Security
Administrators can easily see which devices are registered to the system, which transactions they have access to, and who they are registered under. This is to ensure the security of your sensitive information in our Barcode inventory management software and asset-tracking system.