Safeguard Your Tools with Our System
Save time, increase productivity and eliminate over-purchasing.
Making the most of each tool purchased is integral to efficient business operations. Losing them costs time, hinders workflow, and can add thousands of dollars spent on replacements. That's why our software provides you with all the tools needed to make the most of inventory throughout its lifecycle. Whether a tool is being checked out, transferred, or retired, our system provides a comprehensive tracking solution from the moment of purchase until the day of disposal.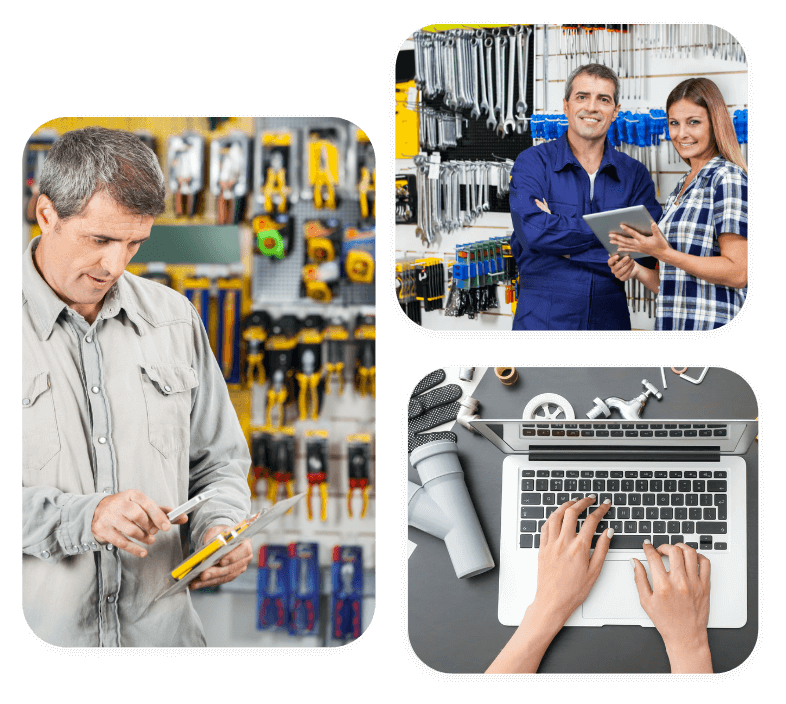 Tool Tracking Features
Maximize your tool tracking efficiency using functions that update in real time.
The features our system uses for tool tracking are highly versatile and user friendly. They provide users with unrivaled customization, simplicity, and security.
Check-Out / Check-In Feature
Check Out/Check In modernizes the process of tracking tools when they change hands. It notifies users when a tool has been checked out and allows them to assign due dates for the item's return.
Security and Accountability
Security and Accessibility can be configured to meet the exact needs of any system. Our system can create as many layers and rules for security as needed, ensuring that only authorized staff can access your most important data.
Tools Visibility
Tools Visibility provides instant reporting on items unaccounted for, and notifies users of upcoming dates for maintenance and when to make new purchases.
Schedule Maintenance
Schedule Maintenance provides reports on the state of all of your tools. It tracks important dates and deadlines regarding maintenance, ensuring that every tool used is up to the job.
Configurable Reporting
Configurable Reporting empowers users with unparalleled customization for reports generated.
Reduce Error
Automatic Data entries eliminate time spent on manual entry along with any risk of human error.
Tool Tracking Audit Trails
Retrace Your Tool's Entire History for Greater Visibility
Being able to trace every tool-related transaction provides swift, noticeable improvements to your workflow and budget. Knowing instantly a tool's location and ownership means less time tracking down tools and more time applying them for greater productivity. The Tool Tracking Audit Trails our system provides act as a library for every action your tools take, ensuring that they never go missing.
Physical Inventory
Scan your entire database and know in an instant when a tool is amiss.
Being able to know the contents of your entire inventory is invaluable to any business that uses tools. Being able to obtain that information from anywhere is even more so. That's exactly what our system provides. Our mobile app and scanners can conduct a physical count of your entire inventory and create reports letting you know what items are missing. When used alongside our system's audit trails, users can know immediately when an item has gone missing and where was it known last to be.
What Tools Can We Help You Keep an Eye On?
Learn how our systems help businesses of any industry
Here's a few examples of tools that our customers commonly track with our systems. If you don't see the tools you need help tracking in this list, feel free to contact our sales team to learn how we can help you!
Hammers, Screwdrivers, Wrenches, Electric Drills, Allen Keys
Nails, bolts, Nuts, and Screws
Scissors, Pliers, Tape measures, Pocket Knives
Axes, Saws, Hatchets, Mallets, Anvils
Sanders, Soldering irons, Jumpers, Testers, Vices
PVC Insulation tape, Teflon tape
Chisels, Spades, Shovels, Scrapers
Toolboxes, Stepladders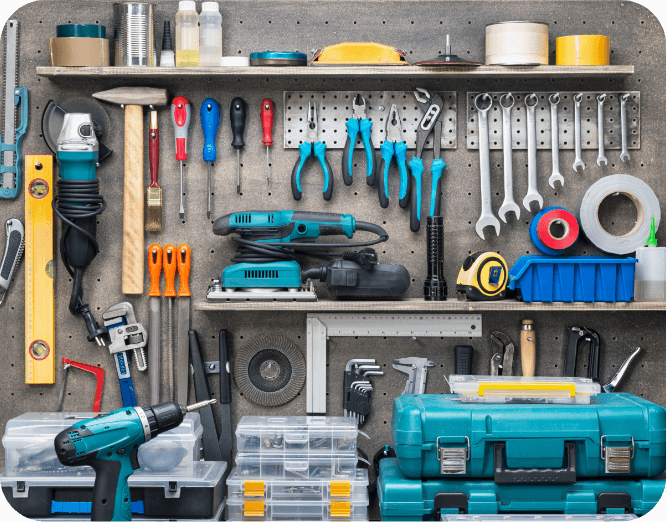 Our Tool Tracking Mobile App
Placing the Power of an On-Premise System into the Palm of Your Hand
Our mobile app equips users with the full power of our tool tracking system even when they aren't on work premises. It allows users to scan barcodes, oversee their inventory's information, configure reports, and much more. Best of all, it is fully compatible with IOS and Android tablets, phones, as well as scanners.