Why use a Cloud-Based Inventory and Asset Tracking System
Simplify Your System for Staff and IT with Centralized Inventory and Asset Tracking That Updates in Real Time.
Choosing our cloud-based solution lets us handle security and IT responsibilities on your behalf to ease your worries. This is perfect for organizations who want state-of-the art security while still being able to relieve their staff of the headaches that come with setup and maintenance. Best of all, our Cloud-Based Inventory and Asset tracking Software is highly flexible. Users can choose between letting us handle the setup, maintaining security, and managing their own system for greater control.
The Best Features of a Cloud-Based Inventory and Asset Tracking Software
How the Tools of a Cloud-Based Approach can Better Your Business.
Using a Cloud-Based approach for an Inventory System and Asset Tracking Software can provide more benefits than just freeing up responsibility for staff and IT. Here are a few examples of how our cloud-based option can enhance your inventory and asset tracking can include:
Unique Features
Offline operating made possible by using our cloud makes it impossible for your tracking to go out of commission. Cloud-Based Inventory Control and Asset tracking makes sure you can continue to track multiple locations without even needing an internet connection.
Sleek and Configurable Interface
Our cloud-based system user interface is always at the forefront of innovation. We are committed to making our interface the most intuitive, sleekest, and most customizable on the market. This means nearly every aspect can be modified exactly to your liking.
Less Hassle for IT
Easy setup and web use means less work for the IT department, lightening their workload and saving time and money.
Pay for What You Need
Cloud-based tracking is provided as a subscription, with cost based on different tiers. This allows you to implement our system by choosing a tier with features that's perfect for you.
Customizing Your Cloud-Based Tracking
Choose from 3 Different Options for Greater Customization and Control.
Upon selecting our system, you will have 3 different implementation options for our cloud-based Inventory and asset management software, allowing for a perfectly tailored system that meets your business's unique needs.
Option 1: Traditional Cloud-Based Server
This is the standard method of a cloud-based system. Users can sync their devices in real time to a server that we host.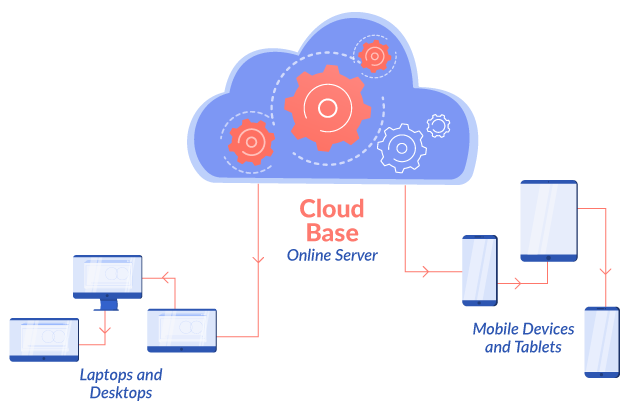 Option 2: Dedicated Cloud Based Server
Like Option 1, this creates a server that we host for your business. The difference is that the server we host is reserved exclusively only for your business. This option also provides a sandbox function that can be used for testing new processes.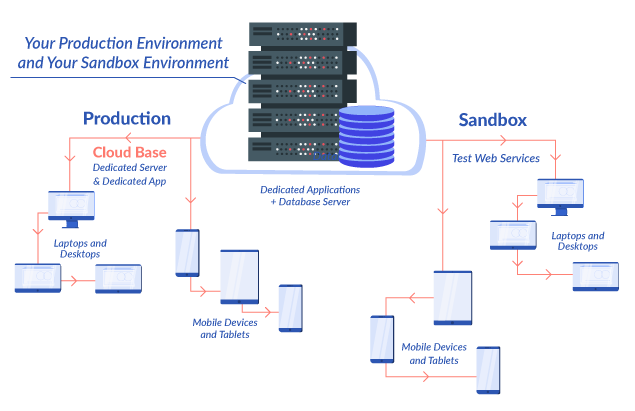 Option 3: Locally Hosted Server
As it suggests, this lets you host a cloud-based barcode system at your home base and places complete control into your hands. This method is perfect for organizations that need complete authority over their security settings and procedures.