Manage the Day-to-Day
What is our Mobile Device Inventory & Asset Management Software for?
Our Mobile app was created to make the day-to-day transactions easier to perform. With a variety of benefits and features created specifically to make your life easier, our Inventory Management and Asset Tracking Mobile App is the best way to streamline your operations.
You will no longer be bound to a physical location or restricted to a desktop computer. This means that you can effortlessly handle inventory management and asset tracking tasks on the go. With this flexibility, you save valuable time and also ensure that your operations run smoothly, regardless of your location or circumstances.
Track Your Inventory and Assets on Any Device
Our Mobile Inventory/Asset Tracking App works for iOS and Android Devices
Our system is BYOD (bring your own device), meaning you can utilize our software on your own devices. Our app is compatible with nearly any device. Any smartphone, tablet, or even scanner with an operating system of iOS 6, Android 4, or later have access to all the features of our software.
You won't have to worry about buying new hardware. Additionally, the back cameras of these devices add the functionality of the device doubling as a scanner: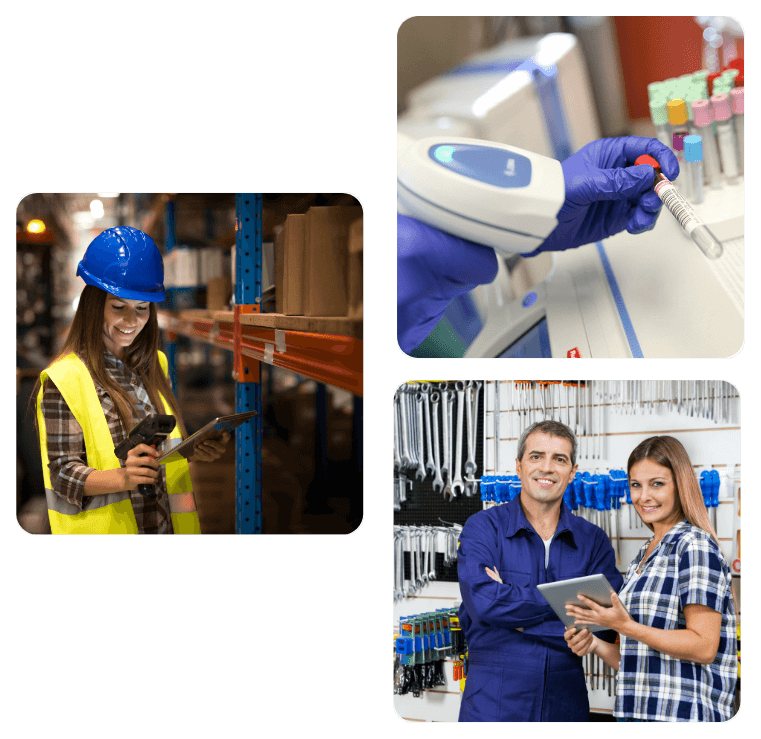 Our Latest Features Designed for Effortless Inventory and Asset Management
Check out the most recent releases within our Mobile App
We make it our mission to constantly and consistently improve our services and provide our customers with the best tools to streamline operations. Here are some of the upgrades we've made to our mobile app:
Uninterrupted Workflows
Effortlessly perform inventory transactions and asset processes without any disruptions. With our latest release, we have revolutionized the way work gets done, making it more efficient than ever before.

Gone are the days of having to exit out of a transaction in progress just to add inventory or asset items to your system. Our newest update enhances work productivity by allowing you to seamlessly add inventory or asset items into your system without the need to close the ongoing transaction process.
Printing Barcodes
Say goodbye to the hassle of switching between different devices just to print out barcodes. With our cutting-edge mobile app, we have transformed the barcode printing experience. In our latest update, we introduced a game-changing feature that lets users export barcodes directly into PDF format, making printing easier and more convenient than ever before.

Whether you're on the go, working onsite in a warehouse or from a remote location, our mobile app ensures that you have the flexibility and freedom to generate and print barcodes with utmost ease.
Export Reports & Analytics
Our latest update brings a new level of convenience to generating reports through our mobile app. We have taken the reports from our desktop system and transformed them into a simplified and user-friendly interface within our app. This intuitive interface allows users to effortlessly navigate through the reports, making the process smoother and more efficient.

You have complete control over the reports in our app. This means that you can easily select the columns that are relevant to your needs and apply filters to refine the results. You can seamlessly export these valuable insights as Excel or PDF files, making it more convenient to print reports from your mobile device if you need to.
Single Sign-On (SSO)
We understand the importance of both convenience and security when it comes to accessing our system on mobile devices. That's why we have gone the extra mile to incorporate SAML security into our mobile app, bringing you the added benefit of Single Sign-On (SSO).

With SSO functionality integrated on our mobile app, your employees and users can now enjoy a streamlined login experience. They can conveniently access the system with just a single set of login credentials, making the authentication process both effortless and efficient.
Update Your Data in Real Time
Always stay up to date with our convenient Mobile Inventory/Asset Management Software
With our Inventory Management and Asset Tracking Mobile App, we take data synchronization to a whole new level. When connected to Wi-Fi, our app automatically syncs any data collected so you no longer have to go all the way back to the dock and manually connect your barcode scanner for data to sync.
If the Internet connection in your facilities is limited or spotty, we've got you covered. In our Cloud-based Solution, the app comes equipped with an offline mode that lets users work without Wi-Fi and sync the data when the device gains connectivity again.
Take Charge of Your Transactions
Phones and tablets aren't the only way you can use our system
If you want to combine the functionality of a mobile app with the precision of a real laser scanner, check out our Barcode Scanners! Users can scan inventory and assets at a fast pace and with far less chance of error with our Barcode Scanners with Android.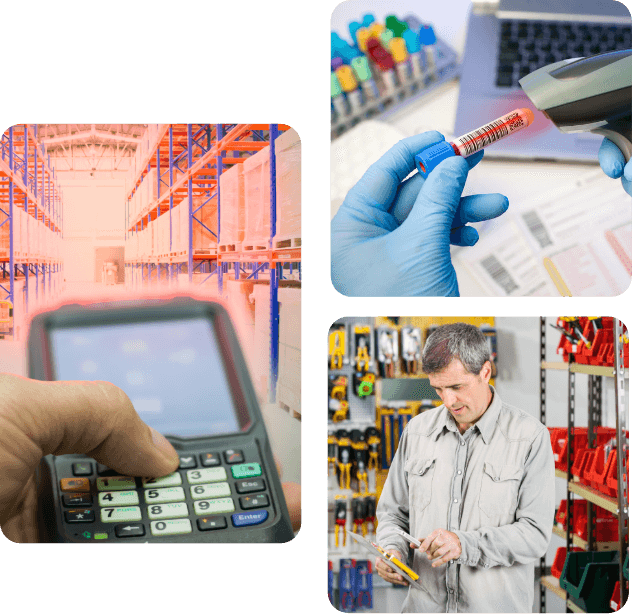 Easily Manage Your Mobile Devices
Our system even allows you to manage your Inventory/Asset Management Mobile Devices
Our Mobile app provides administrators with a comprehensive view of device registrations and user access, offering valuable insights for effective management. With just a few clicks, administrators can easily access vital information about registered devices, authorized transactions, and the corresponding user details.
This powerful feature ensures administrators can conveniently retrieve the data they need to maintain control and optimize system operations.