Inventory Control and Asset Tracking tailored to your gear
Maximize your visibility on data about your life-saving equipment
Fire and EMS responders have emergencies to navigate, it is crucial to have all equipment immediately available and in perfect condition. When their Tools and equipment have unexpected breakdowns, we know how frustrating it is and how dangerous the situation can turn in the event of an emergency.
Always be prepared for emergencies and keep your equipment in optimal condition with one of the best-in-class Inventory Control and Asset Management Systems. Our software has many features that can allow you to schedule regular maintenance on your equipment and much more.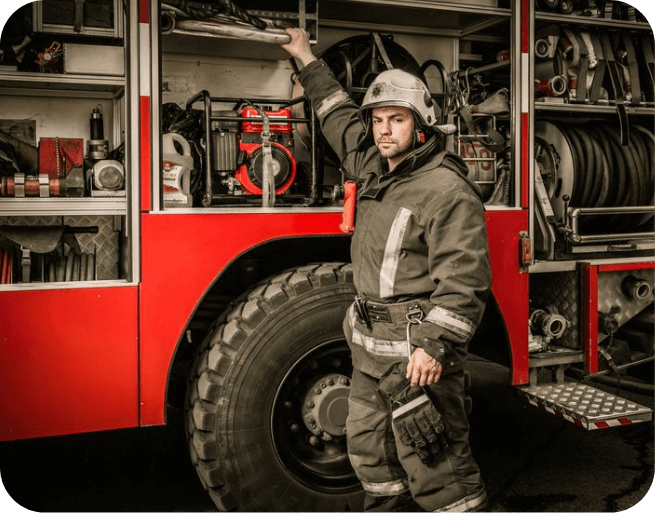 Fire and EMS Asset Management Benefits
What the Right Inventory and Asset Tracking System Can Do for Fire-EMS Departments
Ease of Use
Our Industry leading Inventory and Asset Tracking Systems are user friendly and easily adaptable for Fire, Rescue, and EMS Departments.
Accurate Asset Records
Knowing where your equipment is and what is available always is critical. The most important aspect of Fire Hazard control is to always have supplies and equipment ready to use.
Visibility Across Multiple Locations
Fire and EMS Departments can share the same master database. Our Systems will provide accurate management of medical supplies and equipment throughout multiple locations.
Reduce Search Time
By implementing our Inventory and Asset Tracking system, firefighters will no longer waste any valuable time searching for misplaced equipment and supplies.
Set Inventory Min/Max Levels
How Fire and EMS Departments Can Save Lots of Time and Money
Fire and EMS Departments may unintentionally overstock inventory items, due to not knowing exactly what is available on hand at all times. Some inventory items such as oxygen tanks might have expiration dates and will need to be used before the expiry date. Both overstocking and non-use of expired materials can be a huge waste of money and space.
Our systems can help manage your inventory and prevent overstocking items. Our industry-leading Inventory Systems can track all inventory quantities and send notifications when levels of certain items are above the predetermined quantity level.
Check Out/In Your Equipment
Implement a Check Out / Check In Process for your assets
Once you have implemented our system, you can use our check out/check in feature to manage your assets in a more efficient way. With this feature your Fire and EMS department will have complete visibility of your assets. Administrators can approve requests of certain assets, see who wants to check them out, and set due dates for when they must be checked back in.
Inventory and Asset Tracking Mobile App
A mobile app that lets Fire and EMS Departments manage their items with their mobile devices
Fire and EMS Departments can perform day-to-day transactions like physical inventory counts and check out/in their assets using their iOS and android mobile devices. They can scan out equipment and medical supplies to an ambulance or fire truck, ensuring that each vehicle is prepared for every emergency call and much more. If your device has a back camera, you can perform any transaction within our systems using our mobile app.