Inventory Management for Logistics and Distribution Companies
Improve Your Logistics and Distribution Operations with our Inventory Software
Logistics and Distribution companies have many different types of Inventory that they need to manage across multiple different locations. With our inventory system, these companies can gain visibility into their inventory, forecast demand, streamline order fulfillment, optimize warehouse operations, collaborate with supply chain partners, and control costs.
Our barcode inventory system will allow them to efficiently manage inventory, improve customer service, and enhance overall operational efficiency within their specific industry requirements.
Efficient Inventory Control for Everyone
Here are the different types of Logistics and Distribution companies we can help
Freight Forwarders
Third-Party Logistics (3PL) Providers
Carriers and Shipping Companies
Warehousing and Distribution Centers
Courier and Last-Mile Delivery Services
E-commerce Fulfillment Companies
Freight Brokers
Customs Brokerage and Freight Forwarding
Smart Order Fulfillment
Automate Your Tasks and Eliminate Manual Bottlenecks
Our inventory control software helps to streamline order processing and fulfillment workflows, making processes more efficient and reducing any kind of manual data entry errors.
Our system will automate order routing, picking, packing, and shipping processes, eliminating manual bottlenecks and expediting order fulfillment.
Effective Warehouse Management
Here are the benefits you will receive when implementing our Inventory software
Efficient warehouse management is crucial for Logistics and Distribution companies. With our comprehensive list of features, your logistics and distribution company can enhance warehouse efficiency, reduce costs, and improve customer satisfaction, ultimately gaining a competitive edge in the industry. Our software offers powerful features and benefits such as:
Bin Location Management
Streamline your warehouse operations by organizing inventory into specific bin locations. With our software, you to easily track the exact location of each item, improving efficiency in picking, replenishment, and inventory control.
Real-Time Inventory Tracking
Gain real-time visibility into your inventory levels, ensuring accurate stock monitoring and minimizing the risk of stockouts or overstocking. With up-to-date inventory information readily available whenever you need it, you can make informed decisions and optimize your supply chain.
Maximized Space Utilization
Our software helps you make the most of your available warehouse space. Efficiently allocate products to appropriate storage areas, optimize storage configurations, and reduce wasted space, leading to increased storage capacity and improved overall efficiency.
Improved Picking Accuracy
Enhance picking accuracy with our software's advanced picking functionalities. Utilize barcode scanning, pick-to-light or pick-to-voice technologies, and optimized picking routes to minimize errors, increase productivity, and improve order fulfillment speed.
Reduced Operational Costs
By streamlining warehouse processes, optimizing inventory management, and improving picking accuracy, our software helps reduce operational costs. Minimize labor expenses, inventory holding costs, and order fulfillment errors, resulting in improved profitability for your logistics and distribution business.
Optimized Warehouse Layouts
Our software assists in designing and optimizing warehouse layouts for maximum efficiency. Utilize visual planning tools to create efficient flow patterns, minimize travel distances, and improve overall productivity. A well-optimized warehouse layout ensures smooth operations and faster order fulfillment.
Streamlined Supply Chain Collaboration
Seamless communication and data exchange
Collaboration with suppliers, vendors, and partners is critical for Logistics and Distribution companies.
Our software facilitates seamless communication and data exchange, enabling efficient collaboration across the entire supply chain. Gain real-time insights into supplier inventory levels, place orders, and track shipments to ensure timely replenishment and uninterrupted operations.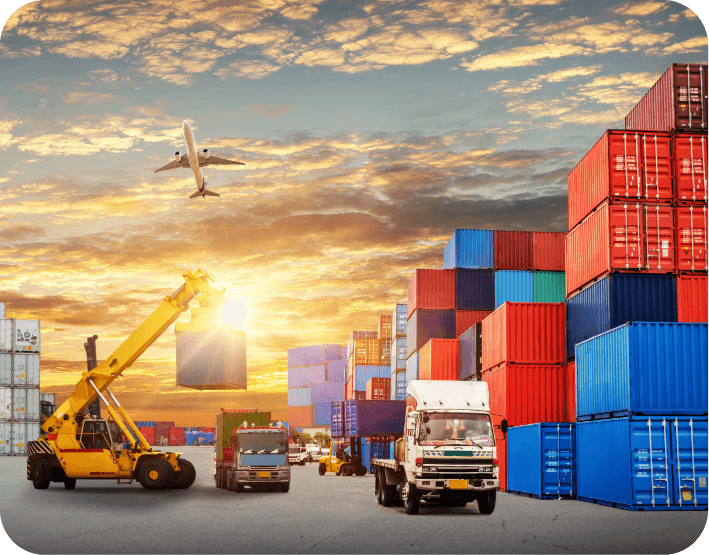 Advanced Analytics and Reporting
Set future goals and plans with our inventory system
Make data-driven decisions to improve operational efficiency and enhance profitability. Our software provides comprehensive analytics and reporting capabilities, delivering valuable insights into inventory trends, demand patterns, and performance metrics.
Identify opportunities for cost reduction, optimize inventory levels, and improve overall supply chain efficiency.
Scalable and Configurable Solution
Implement our software and it will adapt to your evolving business needs
We understand that every Logistics and Distribution company has unique requirements. Our inventory management software offers scalability and flexibility to adapt to your evolving business needs. From small-scale operations to large enterprise-level logistics networks, our software can be tailored to fit your specific requirements, ensuring a seamless fit within your existing infrastructure.
Unlock the full potential of our inventory management software tailored for Logistics and Distribution companies. Streamline operations, optimize efficiency, and stay ahead of the competition in the fast-paced world of logistics and distribution.