Trusted By








Industry Leading Inventory Control & Asset Management Systems
Find the perfect solution to your inventory and asset tracking challenges
We strongly believe that the better you track, manage, and organize your items, the better your company will perform. Our simple but powerful array of systems allow you to view all your inventory and asset data at any given time. Once an item is entered into any of our systems, you will have access to a full transaction history which will help you plan for your future.
Any tracking challenge you could face, no matter your company's size or industry, we have a full list of configurable features and reports and plenty of system options to help you solve it. It is our mission to ensure that your assets are managed the way that best suits your organization.
Schedule a demo
What Makes Us Industry Leaders
Take a look at the features that are unique to us that only we can provide for you
Besides the basic features we offer, our system comes equipped with unique and advanced Inventory and Asset Management Features, Software, Products, and Add-On's.
Inventory and Asset Tracking
We are the only company that can track both inventory and assets in one system. Most companies only specialize in either one or the other but never both.
Inventory Requisition Add-On
With our Inventory Requisition Add-On for our Inventory System, you can view and request the inventory items you need within your organization.
My Work Assets Add-On
With our My Work Assets Add-On for our Asset Tracking Software, you can view and request the assets you need within your organization.
Multisite System
With our Multisite system you can manage multiple separate divisions with one software. Other companies usually make you purchase separate systems for each division.
AI Forecasting
Our systems use Artificial Intelligence to predict and enhance business forecasts.
Advanced Configurations
All our systems are completely configurable so that you can adjust our software to work the way you want it to. Configure our software from top to bottom from field names and dashboards to reports and more.
INVENTORY & ASSET HISTORY VIDEO
Inventory & Asset Management System Options
Let us help you find the perfect system for you and your business
We understand that it can be hard to choose the perfect system for you and your business. That is why we provide you with multiple system options to choose from. All our systems work for businesses from any industry. If these options have sparked your interest or relate to you, you can visit the "Our Systems" section of the Products tab in the menu above for a more detailed explanation of each system.
Here are the different system options we offer:
Inventory System
Our Inventory System is perfect for any size business who is looking only to manage their inventory. This can be standard inventory, serialized inventory, serialized with quantity, batch/lot, or non-inventory. We also feature an Inventory Requisition add-on for your convenience.
Asset Tracking Software
Our Asset Tracking Software is great for any size business who is looking to only manage their assets. This can include managing extremely valuable assets, equipment & tools, IT assets, and more. We also feature a My Work Assets add-on to handle internal shared resources for you and your employees' convenience.
All-In-One Solution
Our All-In-One Solution, also known as our "Combined System", works for any size business who is looking to manage both inventory and assets under one system. No other company can provide this option for you.
We Scale Our Inventory & Asset Management Systems to fit for Your business
Explore the option that best fits your organization size
We offer you implementation scales according to what you and your team needs. With other systems on the market, you might end up paying too much for too little, and we want to fix that. The flexibility of our software makes it easy to scale up with seamless transitions as your business grows. Here are some options we have available:
Enterprise System
Our Enterprise System, also known as "Large & Global Corporations System", is perfect for large corporations. We provide two Enterprise systems; One for inventory management, and of course an All-In-One solution for just the inventory side.
Multisite System
Our Multisite System, also known as "Businesses with Multisites", is perfect for medium to large sized companies who are looking to manage multiple sites/locations. This system is unique to us because we allow you to manage multiple locations within one system. Other companies usually make you purchase a separate system for each location.
Standalone System
Our Standalone System is designed for smaller organizations who usually require only one Database, operating in only one location, and are expecting future growth. They can start by keeping track of their Inventory and Asset items within their office building and/or stockroom.
Want a Way to Shop Your Own Inventory?
Check out our NEW Inventory Management Mobile App
With CartCloud, your users can effortlessly shop for available inventory and request items with a digital catalog that taps right into your warehouse. We streamline your work by putting convenience in your hands, allowing users to conduct inventory requisitions from anywhere at any time. Our app also lets users stay up to date with their requests with alerts, while providing real-time insights on Inventory Levels and more!
Cloud-Based System & On-Premise Solution
Choose which hosting option would be the right fit for your needs
Along with the long list of system options, we also have two different hosting options for the system you end up choosing. Our two hosting options for each system would be our Cloud-Based and On-Premise Solutions. Cloud-based systems give us more control over the security of your system while On-Premise solutions put all your security in your hands.
Our on-premise option is most popular among Government agencies because they would prefer to have complete and full control over their own security. Our Cloud-Based system is extremely secure as well but is less work for your IT department and puts the heavy lifting on us.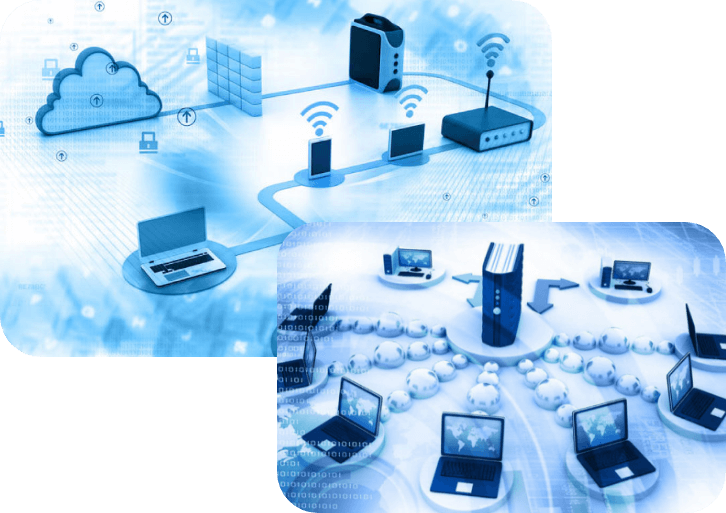 Integral Features in Our Inventory System & Asset Tracking Software
Inventory
Import Data
Export Data
Receive Transactions
Move Transactions
Issue Inventory
Transfer Inventory
Reporting
Min/Max Alerts
General Alerts
Purchase Orders
Sales Orders
UPC Lookup
Data Analytics
Historical inventory
Forecasting
Picklists
Note & Flag
Asset
Import Data
Export Data
Receive Transactions
Move Transactions
Check-Out Assets
Check-In Assets
General Alerts
End-of-life Alerts
Reporting
Reservations & Planning
Comprehensive historical records
Maintenance Tracking
Depreciation
UPC Lookup
Data Analytics
Note & Flag
Inventory System Features & Asset Tracking Features
Check out some of our one-of-a-kind Inventory and asset management system features
Advanced Reporting
Create configurable reports containing only the pertinent information in a format that makes the most sense to you. We have many default report options to choose from and they are all able to be adjusted to your liking.
Configurable Security Settings
In our system you can modify your security levels so users only view or have access to the data and transactions necessary for them and their level or department.
Asset Maintenance
This feature is only included in our Asset Tracking system. Users can check when an item's next recurring maintenance date is and schedule new maintenance for any of their assets.
Check Out/In Assets
This feature is only included in our Asset Tracking Software only. With this feature you can check-out or reserve assets and set up a due date for when they must be checked back in.
Approval cycle
Administrative users can set up approvals for Purchase Orders and Sales Orders. They can also enable notifications for purchase or sales orders that are pending approval.
Physical IT and AT counts
In our systems you can scan your inventory and assets then create reports containing information on what is missing or misplaced. For inventory, you can then update the location of misplaced items.
Map Visualization
Within our systems you can enter and view all your locations on a map and access details about assets or inventory items that are at that location.
Kit Assembly/Kitting
This feature is only included within our Inventory System. This feature allows you to take multiple inventory items and combine them into one, also known as assembling a kit or "Kitting".
Inventory Requisition and My Work Assets
Our two interfaces that display all your organization's Inventory and asset items for you
The Inventory Requisition and My Work Assets features essentially allow you to view all the inventory or assets your company owns and request temporary custody of these items. On the asset side, they can also request maintenance or report items missing. The best part is you don't need to be a user of the system to use these features. Anyone who is granted access through our security controls can reserve your inventory or assets
If you would like more in depth explanations of these features, you can find them in the "Our Systems" section of the Products tab in the menu above.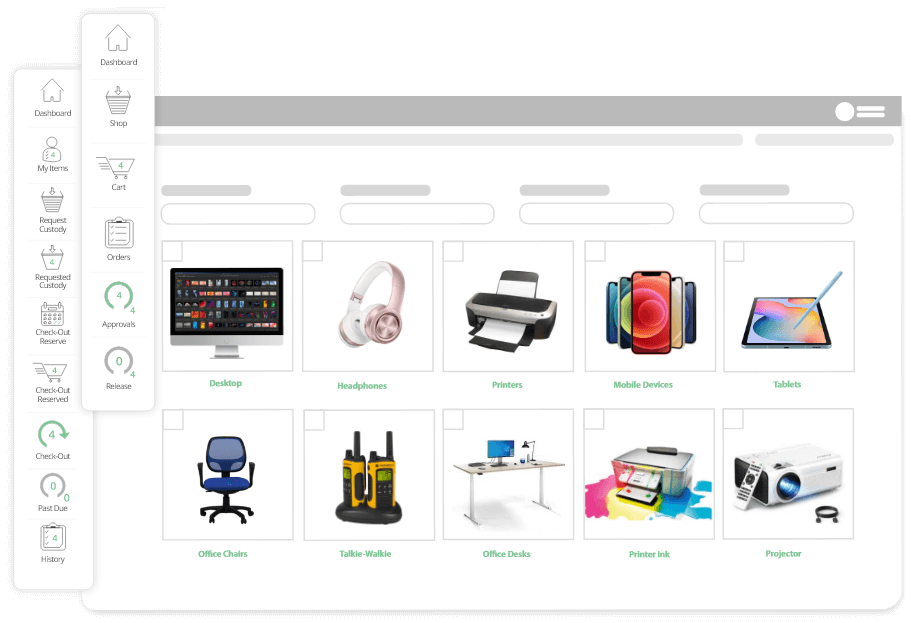 Inventory & Asset Tracking For Any Industry
Our system is designed to meet the needs of any industry out there
See which industries our software caters to and learn more industry-specific information about our software. Of course, if you don't see your industry, that does not mean our software is not right for you. Our configurable system can be used by any organization in any industry.
Defense Contracting Command– Washington
I am very pleased with this software. It is like a Christmas gift after 16 years of service here. I am very proud we have made a good acquisition.We will have to tell others.
Ed Harris - Chief, Command Support Division
Status Pros
Our clients have high expectations with regards to software solutions. Barcloud stands alone with regards to customer service, innovation, and ease of deployment. The platform provides agility for logistics and customizations out of the box.
Lucas Wellman - Founder
Blue Man Productions
Our production department utilized an existing on premise asset management solution, which did not provide the flexibility of deployment without heavy investment in secondary licensing. Barcloud SaaS solution allowed quick deployment across multiple platforms with no IT support overheads and no compromise in functionality.
David Witchell - David Witchell
Inventory & Asset Tracking Mobile App
Conduct day to day transactions using your own mobile devices
We provide our users with a Mobile App that allows you to use your own iOS and Android devices to perform any transactions that would normally be performed using hardware like barcode scanners. Most companies require you to purchase hardware in addition to their systems, but our Mobile application is included at no extra cost.
It allows you to manage your inventory and assets from anywhere where there is internet access. Additionally, when using our Cloud-based solution, you can use "Offline Mode" which allows you to use the app without the need for internet access. Then you can sync your data directly to the web app when it reconnects.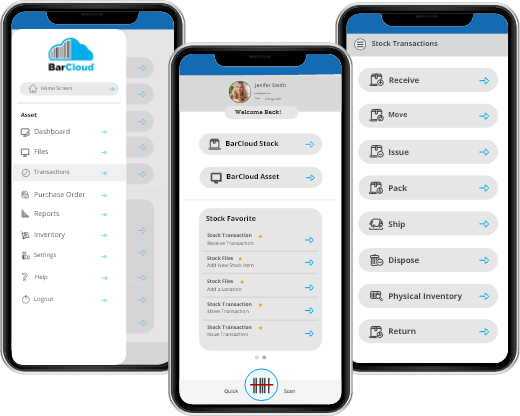 Learn more about what
we're up to lately