Visual Asset Routes
See exactly where your assets are at all times
Our Asset Tracking Solution's Routing Feature gives users the ability to track assets when being transported from one location to another daily or periodically.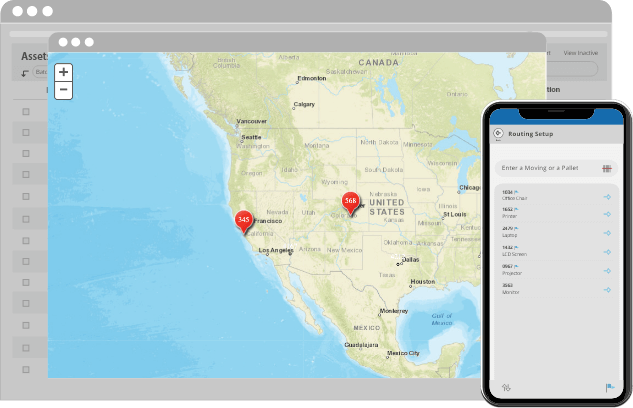 Benefits of Our Asset Routing Feature
Asset Route Tracking Includes:
Assets Transported
With this feature you'll be able to see exactly which assets are being transported from one place to another.
Distance Traveled
Our Asset Tracking Routing feature will even tell you the exact distance your assets have traveled such as 30 feet or 6 miles.
Route Traveled
Our system will show you exactly which routes your assets have traveled. The routing feature will quickly show you the exact route your asset took on a digital map within our system.
Time Duration
Not only can we tell you the distance, but our system can also tell you the amount of time your assets took to get to their destination.
Asset Routing Mobile App
Scan Barcodes with Your Phone or Tablet
Utilize your personal or business-issued smartphones or tablet to quickly scan barcodes on your assets. You can then start routing those assets within our Asset Tracking Mobile Application and the Asset Routing Feature. Our mobile App works with any iOS or Android device but it must have a built in back-facing camera.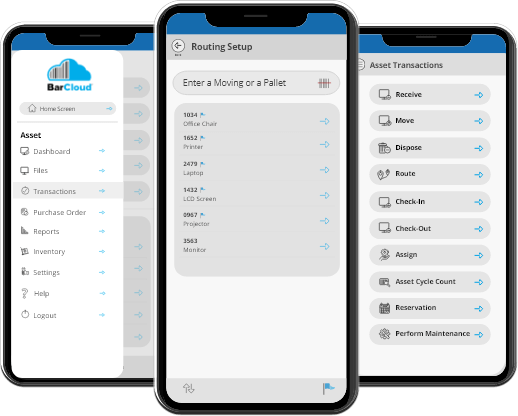 Set Asset Routing Locations
Our System will Easily Detect Nearby Locations
After your asset items arrive at their destinations, nearby locations that have already been entered into our software will instantly be displayed or can simply be added manually.